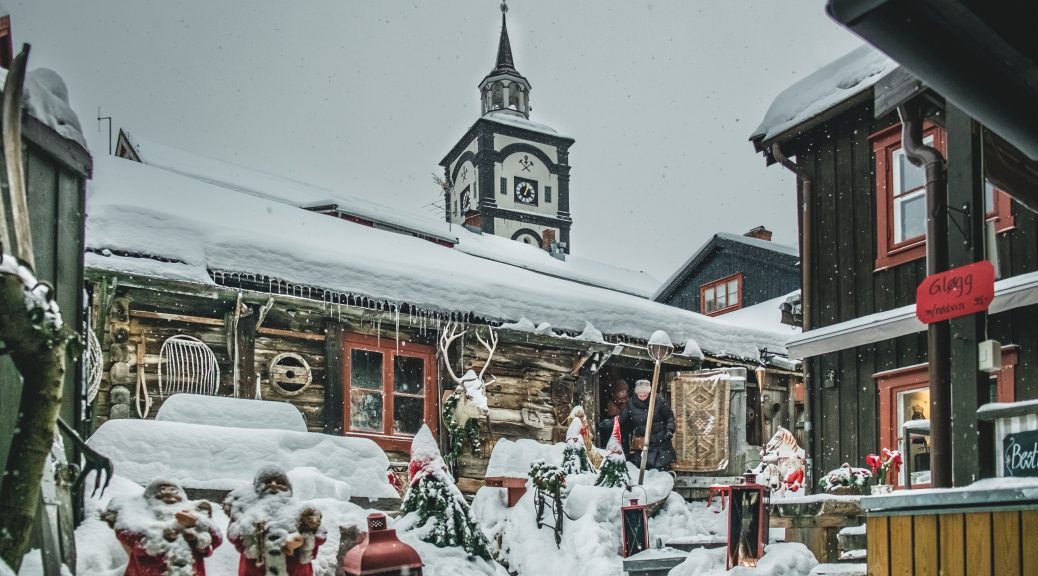 Discover the trough Christmas feeling in Røros
Discover the trough Christmas feeling in Røros
With the speed of a steam train, the Christmas season is approaching again … or to get into the atmosphere "at the speed of a reindeer". In the weeks before Christmas, Christmas markets pop up like mushrooms everywhere.
However, if you really want to get into the Christmas mood, there are rarely better places on this globe than the village of Røros in Norway. I visited this idyllic place 2 years ago and would like to tell you more about it.
Winter wonderland in Scandinavia
The Christmas markets in our neighboring countries are all well-known, but there's no place better to soak up the true atmosphere than up North. The Christmas markets over-there are mainly dominated by cosily lit streets, gatherings with friends and family, songs around the campfire.. and local artisan Christmas gifts and delicious delicacies.
Plenty of local Christmas markets around, but when they're also covered in snow, it just completes the package, doesn't it?
The best-known (larger) Christmas markets can be found in central cities such as Oslo, Gothenburg and Copenhagen, but be sure to visit Trondheim, Bergen and Skansen in Stockholm. Gothenburg and Copenhagen are also ideal for families, as these cities transform their theme parks, Liseberg and Tivoli, into real fairytale parks.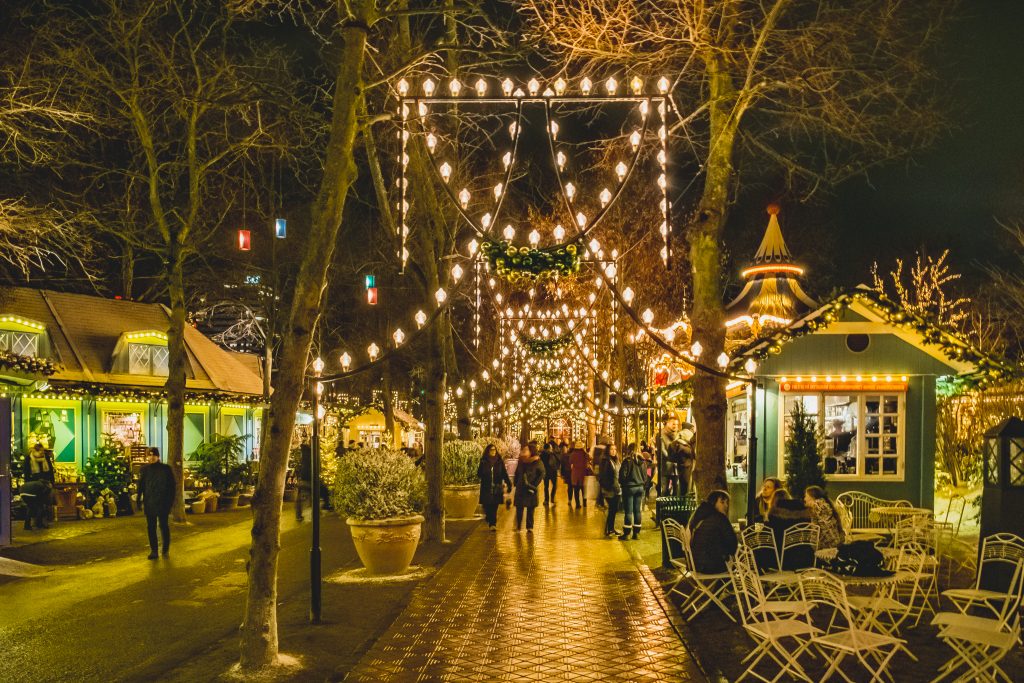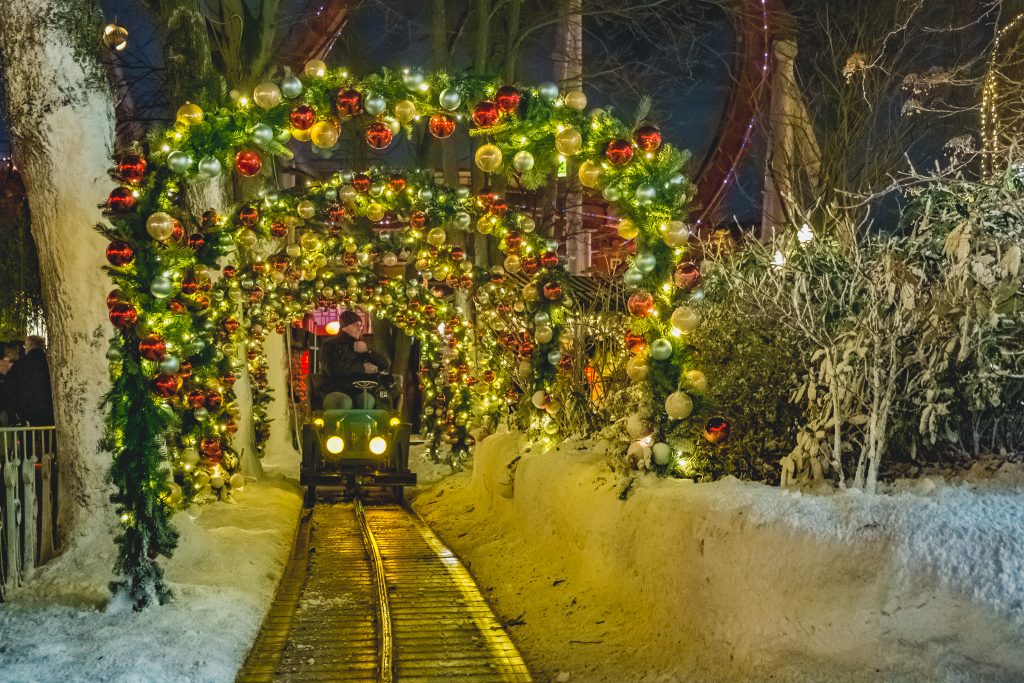 But if you really want to get into the Christmas spirit, the town of Røros in Norway is bucket list material! I visited the town in 2019 together with Jumpseat colleague Michel and would like to tell you more.
Røros
The charming town, best known for its colorful wooden buildings and underground copper mines, is a UNESCO World Heritage Site. It has also been certified as a "sustainable destination" for its efforts to reduce the impact of tourism.
In spring and summer it is a well-known destination for foodies, hikers, and nature lovers. In winter it is known as one of the coldest cities of Norway, but you'll get tons of snow and the typical winter activities in return… and most of all, a 2 weeks lasting idyllic Christmas market in December!
Fun fact: Røros served as the inspiration for the Disney blockbuster "Frozen".
Julemarked Røros
According to the information I found online, the town transforms itself for 2 weeks into the perfect place to get into Christmas mood: Temperatures from -5° to -30° Celsius, colorful houses, delicious Glögg, fire pits, snow … The advertisement I found said: "Røros is the ideal place to start your holiday season!"
Sounds great, doesn't it? That's what we thought as well and therefore promptly changed our plans in Trondheim to head over and explore.
After a train ride through beautiful winter landscapes, we arrived at the snow-covered Røros station on Sunday afternoon. As expected, it was cold (-8°C), it snowed a lot and there was quite a strong wind. No worries we came prepared.
It was also very clear which direction we had to take: Just follow all the Norwegians and tourists from the train. The all had one goal: Christmas market.

Once arrived, the sight exceeded my expectations. A snow covered Christmas village appeared in front of me, lit by numerous lights and candles and lots of Christmas decorations. A children's choir performed on the corner of the street and we were greeted by the delicious smells of cinnamon and mulled wine.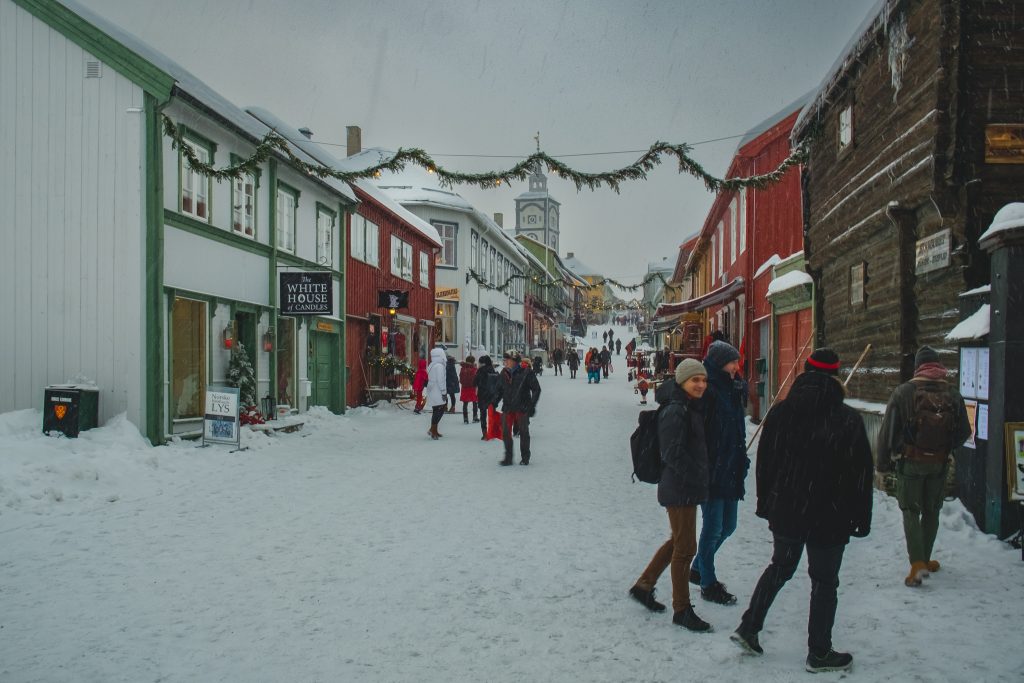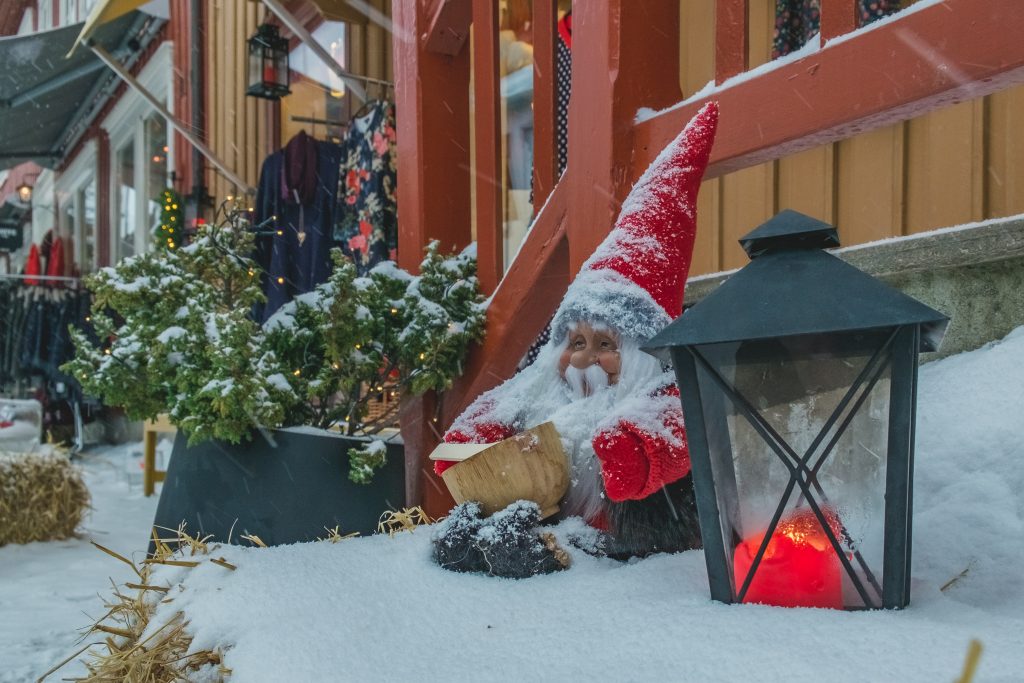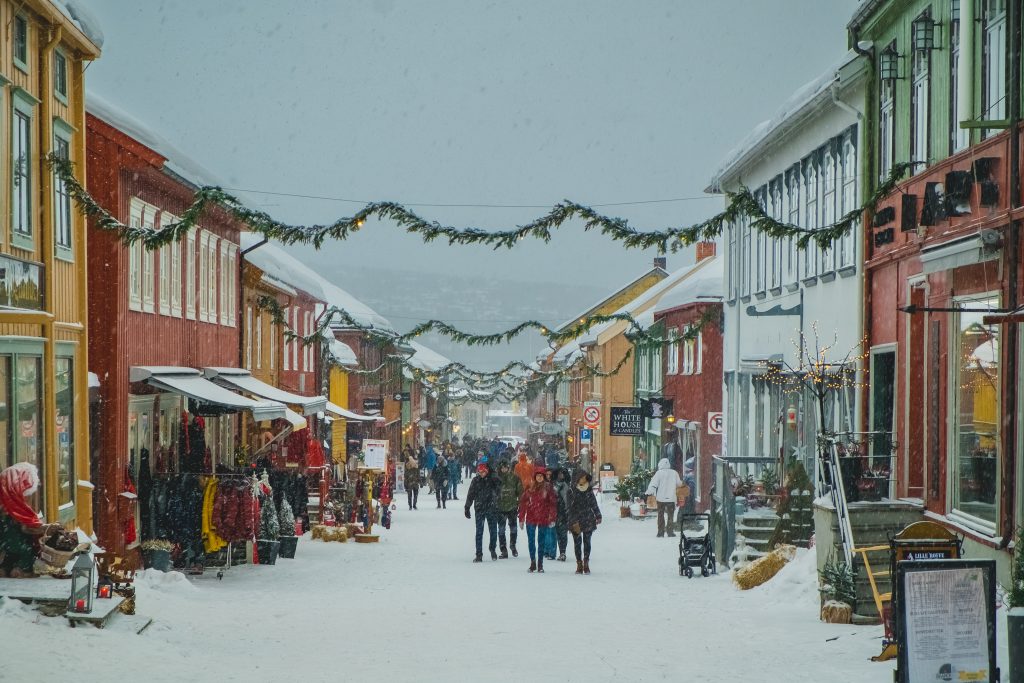 We decided to walk up the shopping street towards the famous church of Røros. After a steep walk, with a few stops in some cool shops, we arrived at the church. Unfortunately, it turned out to be inaccessible at the time, which was a bummer. So we decided to head to one of the numerous cafés and warm up with a typical Swedish glögg? (although I secretly prefer a good German Feuerzangenbowle)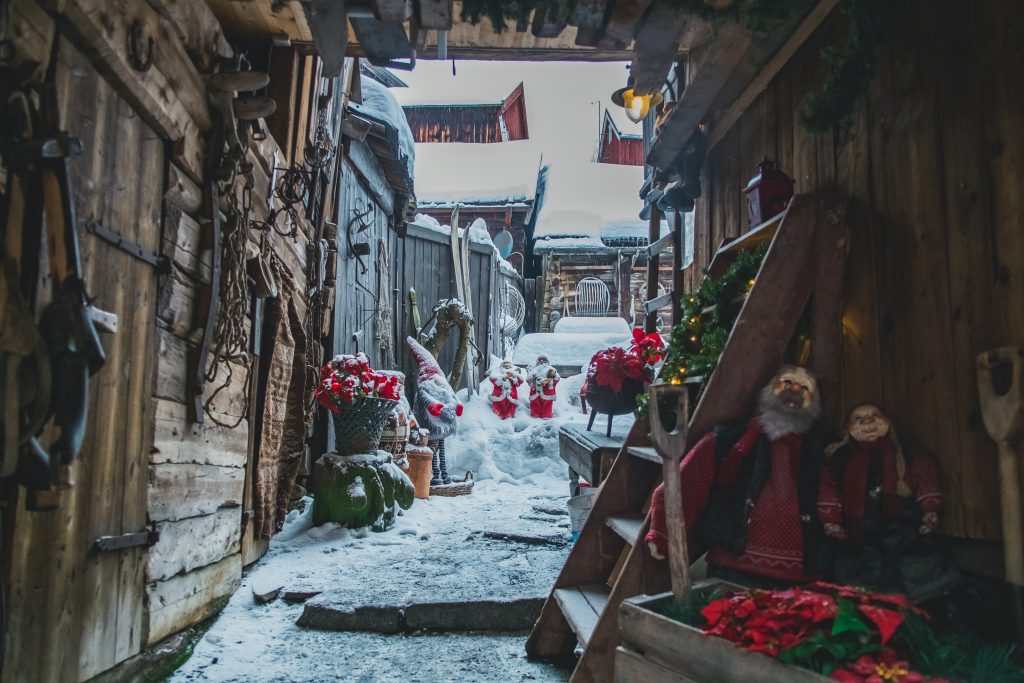 Once warmed up, we made our way through small streets to arrive at another main street, where after a few more stops in shops and a café, we finally ended up at an old square and the actual Christmas market. A large Christmas tree, a stage with a youth choir and various stands with local traders and craftsmen, who sold their homemade clothing, wood carvings, glassware and of course all kinds of food and delicacies.
The region around Røros is known as one of the leading areas regarding organic and locally produced food: reindeer, game, fresh fish, special cheeses… and even a wide range of local beers. So foodies that we are, we had to taste some of them. I remember well that the cured salmon was absolutely delicious and till today still regret not being able to take some with me, since Trondheim was only a stopover on our trip.
Simply cosy
Røros Julemarked is clearly a place for young and old, where conviviality and family come first. Everywhere you find wooden benches with sheep and reindeer skins, on which you can relax, chat with locals and warm up at a fire pit or with a hot drink. There is also plenty of entertainment for children, although I mostly saw them sledding or building snowmen.
Prefer something more active or romantic?
Then curl up under a sheepskin and let yourself be driven through the decorated streets on a horse-drawn sleigh. Feel like Santa Claus and Miss Claus, while enjoying the sound of sleigh bells and the horses' hooves on the fresh snow.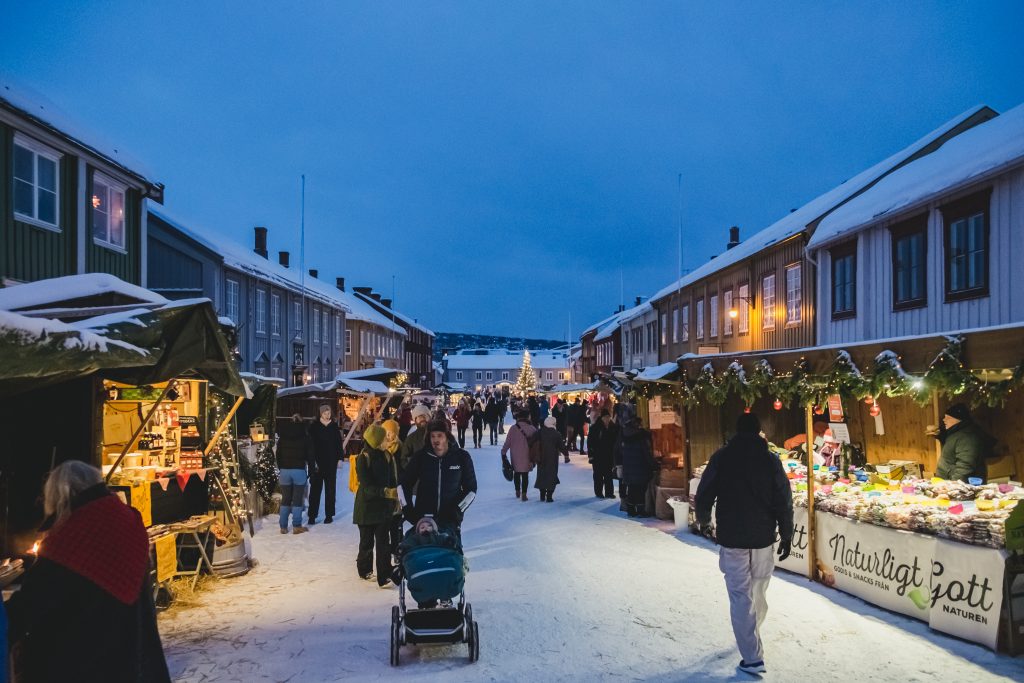 Could it get anymore magical? Well I didn't think so, until I noticed a bunch of reindeers in a corner of the square. REINDEERS!!

Well a Norwegian Christmas market with grazing reindeer, that was the icing on the cake! I said to myself "Rudolf is in the building!" but he was nowhere to be seen, only one that was called Sven! Of course by analogy to the well-known reindeer from Frozen. To be honest the owner looked quite a lot like Santa Claus, so many visitors were only too happy to have their picture taken with both.
Time flies when you're having fun!
It was almost 5 pm and pitch dark outside. The market was coming to an end and it started snowing heavier again. Before heading to the station, we crawled into a cozy restaurant for a reindeer burger and then took the last train back to Trondheim. In contrast to the outward journey, it was very quiet on the train. Presumably because everyone was tired… or maybe had a bit too much glögg!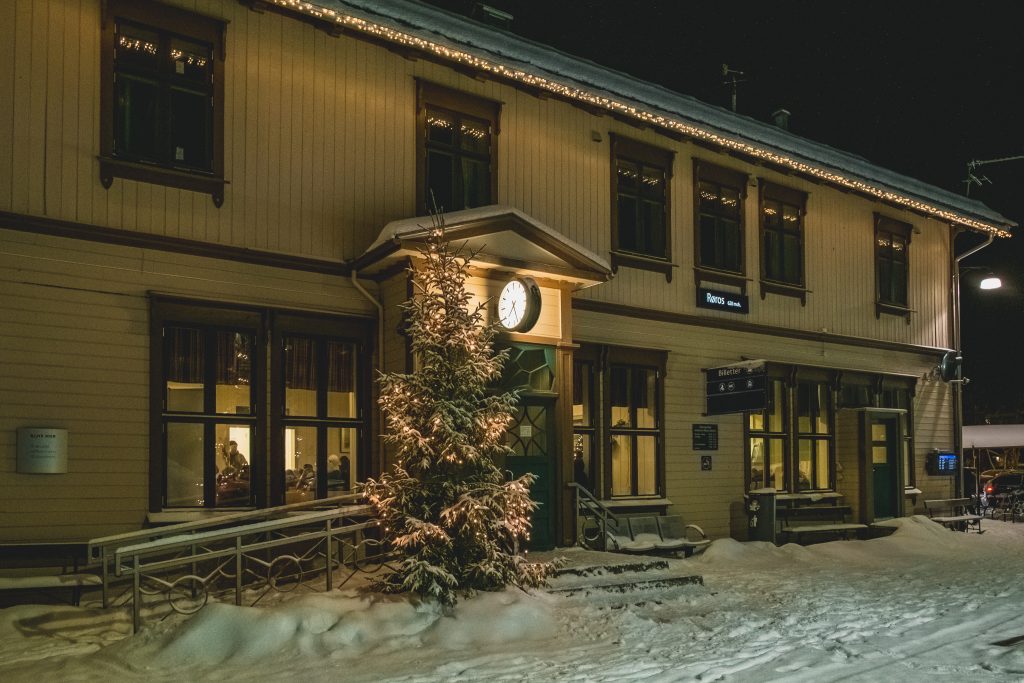 Conclusion
If you are in Oslo or Trondheim, the Christmas market in Røros is definitely worth a day trip. It is also an ideal destination to get a taste of a real Christmas atmosphere. I hope my photos contribute a bit to the story.
And honestly, being able to hand over a present at Christmas, coming from the "Frozen" village in Norway! That's for sure a winner!
Train ride Trondheim – Røros
One of the best options to get to Røros is by train from Trondheim. The comfortable train ride takes about 2.5 hours and provides beautiful views, snowy houses, high mountains,…
The ride itself already has something magical and the friendly conductor sometimes has a nice story for the kids on the train.
Resources
Visitnorway.nl
Julemarkedroros.no