The book I got about the 500 hidden secrets of Copenhagen did not disappoint. Following the books lead, I began wandering around and quickly began to appreciate this cool vibrant city. It literally breathes their favorite Danish word hygge. Honestly I'll not even going to try to explain it, you'll have to ask that to a Danish or otherwise read one of the many books published. Let's just keep it to the word: cosy.
The small canals, the little boats, the nice houses and streets …  make you think a bit of Amsterdam and then I'm not even talking about all the bikes. The most important and also easiest method of transportation. Well you can take a tram or bus or start walking around like I did, but it really is a bike friendly city. Some Belgian cities should come and visit before calling themselves bike friendly. Nevermind… let's continue.
The road I defined with the book, let me wander around the small canals and  waterfront. It didn't take long to arrive to what used to be restaurant Noma. A pity it closed earlier this year, since it was still high on the restaurant list. But honestly that feeling was quickly gone when you realize how many great restaurants, breakfast spots and small diners can be found in Copenhagen. Quality food all around… just starting with what became my favorite spot in town, Papiroen.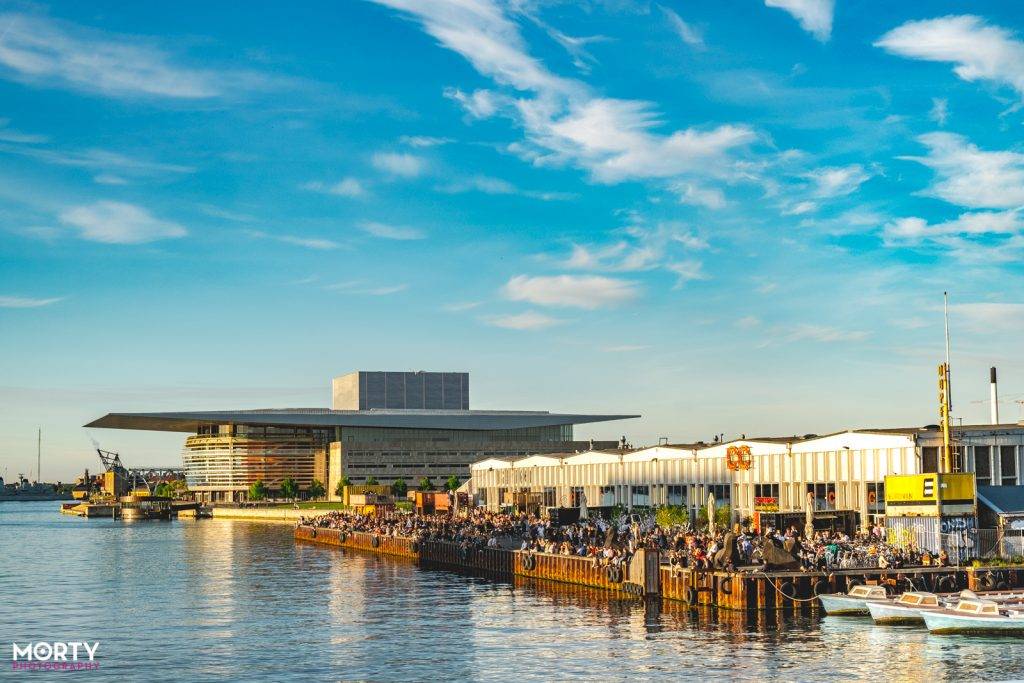 Papiroen or Paper Island is an "island" in the centre of the harbor. Lying opposite of Nyhavn and The Royal Playhouse and next to the shiny modern Royal Danish Opera house, it consists of a set of big industrial halls, formerly the paper storage halls for the Danish press association; hence it's name. The former industrial halls are now being transformed into an urban area, with co-working spaces, offices full of creative companies, a lot of art on site, cafés … and the most important for me the Copenhagen streetfood hall. Yes it's streetfood! Yes it's typical for me, but it's such a nice place! For sure one of the best places to cool down after a busy day, getting relaxed in the many seating options and enjoying some nice music, while your eating some streetfood and sipping on a cocktail. It's also a great spot to enjoy the sunset over Copenhagen.
Right across Papiroen is the best known place of Copenhagen, Nyhavn. The old harbor, former red light district (hence the hint in my photo) is normally flooded with tourists, taking photos eehm sorry selfies, waiting for a boat cruise or honestly paying for an overpriced drink at the many terraces. But hey every big city does it, you would be foolish not to. But nevertheless this, Nyhavn is always a good idea as a photographer. It's probably the most photographed site I know, but it is really a photogenic place. The beautiful old buildings, the boats, bridge and a beautiful sunset, make it a great place for photographers. I spent some time there as well and ended with these shots.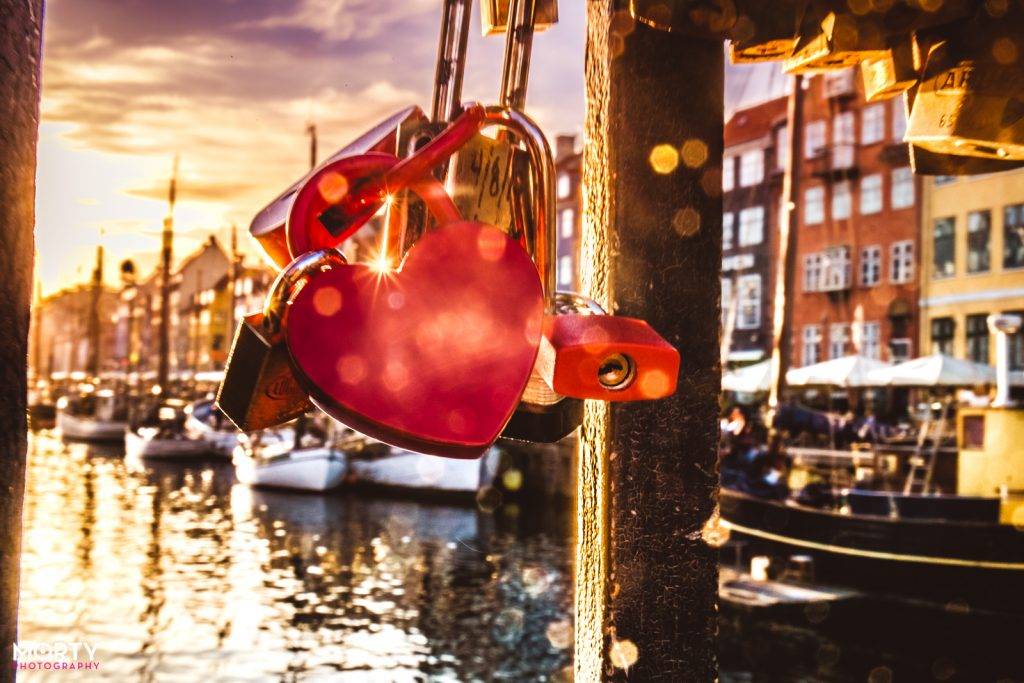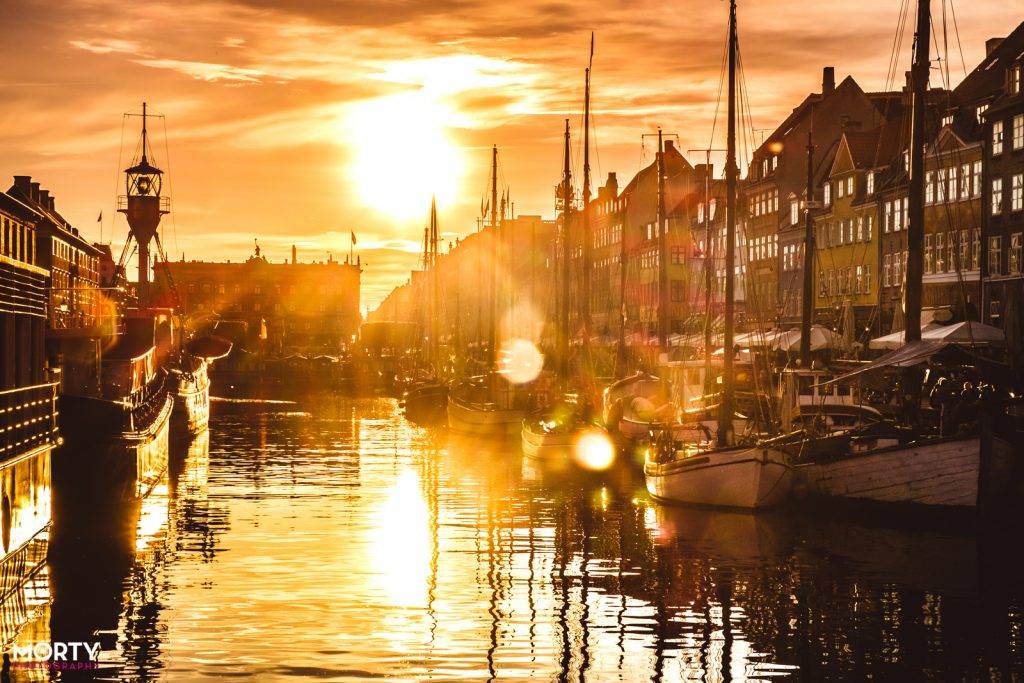 But Copenhagen is more than only beautiful buildings and canals… and then I am not referring to that little disappointing statue that everyone wants to see. It has many districts, each with his own vibe, like in Berlin.
A good way to discover more of the beautiful city centre is going on the free walking tour that starts at City hall. I had (the crazy viking) Magnus as a guide and really got an original insight on Danish life and Copenhagen in particular. Mostly that it burned down a lot, but that's just a side note. I would actually recommend taking the Grand Tour and if you can, go with Magnus. He is really a great laugh and as a foodie, he knows some of the best restaurants in town. Yes sir!
Dinner, that's what took me to another interesting part of town, the lively Vesterbro area. This part of town is known for the many restaurants, nightlife and shopping. After a short walk, I arrived at the popular Meatpacking district, the beating heart of Vesterbro's nightlife. Next to housing bars, nightsclubs and restaurants, it also hosts galleries, shops and several cultural activities. Strolling passed places with names like Warpigs, Fleisch & Fiskebaren, I finally end up at Gorilla, my restaurant for the evening and highly recommended by several people and blogs. The menu consists mostly of shareable snacks and à la carte dishes, but they also offer a tasting menu of 10 or 15 shareable servings, set by the kitchen. Guess what I went for? Oh yeah! The menu and a couple of dark and stormy cocktails later, I called it a day. (read: I was full!) I'll talk more about this great restaurant in another article, but do place it on your to do list.
One thing that you have to take for granted is that Danish people take their coffee seriously. As in many big cities, there are coffee shops everywhere but one of the better ones in town is The Coffee Collective. So instead of going for breakfast the next morning, I went over to the Torvehallerne for a coffee and a Danish snegl. Both didn't disappoint. The Torvehallerne is a covered market space, where you can buy a wide range of products, from local vegetables and meat, to Danish or Italian delicacies, from smoothies .. to Belgian Westvleteren beer. I am not kidding. Probably the biggest stock I have ever seen somewhere, besides in the abbey. That on the side, I was talking food right? There is food for everyone's taste there. But if you like duck, you really need to taste the "maigret de canard" sandwich from Ma Poule, a shop selling French delicacies. And you know what the good thing is with the French, they like Belgian beers too, so they had Grimbergen on tap! Double winner, although not cheap.
The next days I kept on discovering more of this beautiful city. Wandering around the streets, taking photos of beautiful places and one time ending up at the most overrated statue of Copenhagen, the Little Mermaid. According to Magnus, the guide, Belgian's Manneken Pis is even far more interesting. To say it in his words " At least they dress up the little pucker" LOL.
That said, I discovered many beautiful places in Copenhagen during my short stay and the book of secrets, really did not disappoint me. Some good tips all round.
So if I can believe the book and the list of restaurants I still did not tick off  (Bror, Väkst,..) …  it will not be  the last time I visited Copenhagen and look already forward to revisit soon … even if that just means ending with a French style croque monsieur with duck fries and cocktail at Papiroen streetfood!